I had completed my first ten mile run. I had walked some of it but a half marathon was only a couple of extra miles, I'd give it a go.
I wanted to support one of the run's charities, a local Multiple Sclerosis rehab cent
re – I work with a friend that has it.
I had three weeks to prepare. I ran, cycled or swam a couple of times a week anyway, but I spent a week before it running every day, starting at 5k and working up to 16k, mostly on the treadmill. I prefer exercising outdoors because it gives you a sense of freedom, you actually go somewhere and you can enjoy nature.
My brother asked what time I was aiming for. I reckoned 2 hours and a half. It had taken me an hour to run 10 miles. He did his first full marathon last year in Copenhagen. We have a photo of him finishing, looking pale and ill. He reckons you need at least 8 weeks training.
He also cycled from Lands End to John O'Groats (the length of England) in 10 days (doing about 100 miles a day) when he was in sixth form and this year he canoed round all the major lochs in Scotland (52km).
Race Day
On race day I had some porridge with bananas for breakfast, great for slow energy release. I wore trainers I'd bought the week before, ones to stop pronation, or your foot rolling in towards your ankle when you run. They were specially fitted from "gait analysis" – I was filmed on a treadmill and action snapshots documented how my feet fell. I have used the same pronation trainers for years and never had any injury – I think because of the way they are made.
When I got to the stadium I had a cereal bar and picked up my charity t-shirt from where the finish was. Announcements were blaring out about the location of key areas. There was quite a queue for the toilets and I worried I'd miss the race. There was no indication of where the start was and quite a few people were asking around. Nothing was signed, but then I spotted the crowd and the time markers. I was surprised that I couldn't hear any announcements. I wondered why I could hear them at the finish area but not at the start. When I did a 10k last year there were loudspeakers covering the whole of the start line and a guy with a megaphone on a platform getting everyone warming up.
Chaos and Confusion
The communication in this case was someone yelling repeatedly: "The race is delayed by 30 minutes". He wasn't wearing anything identifying him as an official so not everybody listened. Most people passed the message on, via chains of Chinese whispers.
About 15 minutes later the man returned, yelling "police are removing obstacles from the course". I wondered what sort of obstacles and why.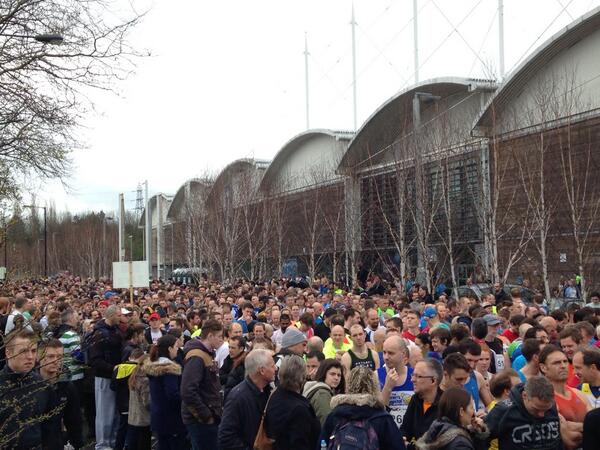 My brother had recommended that I start ahead of the time I thought I'd run it in. The markers were all set out the same distance apart. This meant that there wasn't enough space for the time the majority of runners were aiming for. I queued to enter the 2 hour section, which was only possible when runners left to warm up. I went back until I found a bit of space so that I wouldn't be crushed when the crowd started to move. The earlier markers then went round a corner ahead of two hours, so we couldn't see or hear what was happening at the start.
"Cancelled"
We waited to start for about an hour. At least it was warm in the crowd, but we had no idea what was happening as during that time we heard no announcements and there was not one official in sight. Eventually there was slow clapping from the 2 hour 15 section which rippled forward, followed about 15 minutes later by booing.
Then a rumour went back that the race was cancelled. Everyone stood there in disbelief. There had been no announcements, it must be some kind of joke, I said. Luckily a lady next to me, Sue, had an in-law who was one of the race volunteers. She had discovered by text that the water had not arrived for the race and that they were dashing round supermarkets buying more. I thought that wouldn't happen somewhere like London.
We waited another 15 minutes or so and then someone in front showed us breaking BBC news on his phone – it was official. There was anger and disbelief. A lot of us were sponsored. Family, friends and colleagues had been generous. I didn't want to let them down and besides, this was supposed to be my first half marathon. But in that moment, the whole crowd of over 4,000 just set off.
I saw Sue and we settled into a nice pace where we could just about chat. She was running for Macmillan and lived nearby. We passed two water stations, one after about 5 miles and one at about 7.
Superhero Spectators
The supporters were fantastic, there were people lining the route almost everywhere, with one group blowing whistles and horns. They were almost all holding out bottles. Runners passed these among themselves. I was moved by the
kindness of strangers and the community spirit. Others had bowls of sweets, which helped keep sugar levels up at the half-way point. I saw people I knew and the cheers from them and the rest of the crowd gave me bursts of energy.
With the first sugar hit wearing off, I suddenly felt a bit tired and had the rest of the sweets I'd been carrying for this point. There had been spectators until about 6 miles. I hadn't drunk more than a bottle of water as I hadn't wanted to get the stitch. At 8 miles there were no more as we were in the inner city industrial area. This meant there was no more water.
Casualties
When I hit 10 miles my legs decided they wanted to stop running and went heavy. A grey-haired runner had just collapsed at the side of the road and an official was bringing him round. Then I passed a young runner who was unconscious with blood on his mouth, paramedics around him. I felt like I was running in a war zone. I could be next I thought, with my parched mouth and heavy legs.
All I could think about was finishing. I remembered my brother's advice that when you're tired you shouldn't run as if you're tired, as that makes it worse. So I lightened my pace and managed to keep going, but exhaustion made it a massive effort. It was time for sheer willpower to keep my legs moving.
I finally came into the stadium and saw a sign "800m to go". I sped up a little, not realising how far 800m feels when you've been running for 13 miles.
Then I saw the "400m to go" and remembered how I felt in a school sports day race. I had no energy and was flagging but then someone cheered "it's now or never!".  I looked at my watch. I had to do it in under two hours. There wouldn't be a repeat of this, this was my one chance. I accelerated and sprinted the last 400m.
I collected my race pack and looked for a water bottle. There had been one in my 10k race pack. Nothing.
Someone at the finish line had pointed out a water table further down so I went there. A lady looked helplessly at me "sorry", she said. To the left of the table were four empty 2 litre water bottles.
As I finished I saw someone being attended to on a stretcher in the middle of the stadium, who was then rushed off in an ambulance.
The Long Walk Home
I was dehydrated but managed to get public transport to town. Then the bus didn't turn up as the roads were still closed from the delayed race. So I took it on myself to walk the 3 miles home. It would be a challenge but I could do it. It was worth it, as on the way I met and chatted to a neighbour, who kindly sponsored me.
After walking uphill for the last two miles I was exhausted and had a migraine the rest of the day, but when I woke the next morning I was fine. A bit of a tender hip and left leg but the day after that I was fine.
Outrage
The event made the national news. Our local MP, Nick Clegg, said that lessons needed to be learnt. The winner said that it was the "first and last race" he would run in Sheffield.
We were still timed and knew that without sufficient water, we ran the race at our own risk, but I think the organisers should learn from those that arranged the BUPA 10k race, which was flawless in every detail.
Thank you to everyone who sponsored me. The page is:
https://www.justgiving.com/firsthalfmarathon2014
Finally, a big thank you to all those who handed out water and saved the day.